The search for an economical and reliable method to produce high quality holes, capable of maintaining a shear band length that exceeds 70% of material thickness, has eluded manufacturers in processing stainless steels, high strength steels and especially thick materials. The current method of generating a hole can only produce a 30% shear band at best. In attempting to increase the shear band length beyond this level, the current methodology most often results in rapid tool wear, which also brings about edge chipping and galling.
Enter, The Dual-Tip punch (DTP).
The Dual-Tip Punch is a superior hole punching tool created by Sonny Sneed for the metal fabrication Industry. It is available for any size, configuration and type of hole being punched. While we show one configuration, other DTP's can be customized to suit 90% of the end use applications.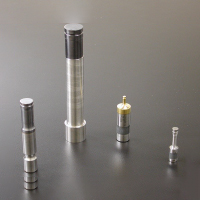 Field-tested and proven by the likes of Lockheed Martin and other Fortune 500 manufacturing companies, the Dual Tip Punch is an engineered instrument with a secondary groove behind the tip. Even if the first strike fails to meet specifications, the second cut cleans out the hole and production continues. Independent testing demonstrates the Dual-Tip punch provides substantial improvements in the life span of punch tools for cold working metal.

The DTP provides an order-of-magnitude improvement in performance versus a conventional single-tip punch.
Longer tool life
Lower maintenance costs
Reduced exposure to premature failures
Increased productivity
Reduced number of rejected parts
Reduced Scrap
Environmentally Friendly
While all metal fabrication will realize these benefits, the Dual-Tip punch is most advantageous in high-volume, high-precision applications such as:
Automotive
Aerospace
Defense
Appliance
Medical Products
Ready to take the next step? For patent or additional information, reach out using the form below.
Companies that have Used the DTP
The DTP has seen extended use in the fabricating plants of some of the biggest companies in the US:
Lockheed Martin
Dana
Tenneco
General Electric
Tennessee Stamping.
Chrysler.
Two are Better Than One
The patented design takes advantages of two tips during the manufacturing process, allowing the second tip to relieve the pressure on the first tip and continue to punch clean strikes without producing unacceptable quality or significant burrs. The theory behind the dual-tip is a second cutting edge created by the patented annular groove. This second groove provides cleaner, consistent holes and results in a finished product that does not show roughness with respect to the punches due to wear down of the tool. And, there is no need to reengineer your manufacturing process or retool your machines. Simply insert the Dual-Tip Punch Tool configured for your manufacturing needs and begin punching.